Although were all eaagrly waiting the 70's inspired Spring 2011 trend to take over the high street, Paris fashion Week wasnt all Studio 54 disco queens and peasant dresses, there was a lot more going on in between. A trend that I'm most looking forward to seeing how the high street translate but most importantly, how YOU translate into your style next season is the Chloe pioneered, minimalistic, aptly named,
Ballerina Chic
collection. Tight hair buns, ballet pumps and sheer skirts all made their dance down the Spring 2011 catwalks back in September: ballet was on the brain for many designers when it came to 2011 trends.
Designers like Chloe and Erdem channeled the Ballets Russes,an avant-garde ballet troupe which performed under the directorship of Sergei Diaghilev between 1909 and 1929, inspiration collection with their models prancing down the catwalk in the new combinations of white wrap dresses, sheer, ankle-length skirts and skin tight leotard-inspired tops but, with the likes of Chloe, using their infinate pleated chiffon dresses - which reminded me of the dress of Chloe's Autumm 2004 collection (one of my favourite collections of Chloes - Ever)
I do love the concept of this trend but I think the execution could pose some issues; with the skirst being so sheer, this would entail 'daring to bare' or some suggest wearing with trousers (envisioning the primary school nightmare of jeans + skirt combination - thats enough to give me palpatations!) or the comeback of the slip. Wouldnt that take away from the sheer - yes pun intended - beauty and femininity of the look, no?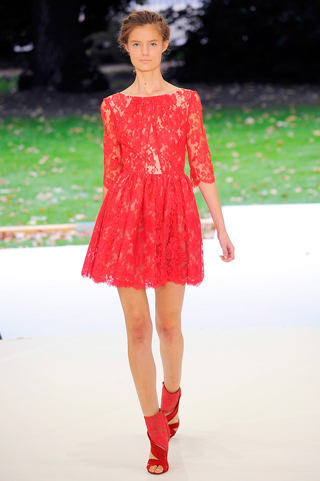 BUT - the shocking modern twist to the Ballerina trend that Erdem takes is an idea that gets my creative juices flowing...
Would you dare to bare?
Much love;
Fashionologist
xoxo